Vendor:

Regular price

From $67.00 USD

Regular price

Sale price

From $67.00 USD

Unit price

per

Vendor:

Regular price

From $51.00 USD

Regular price

Sale price

From $51.00 USD

Unit price

per

Vendor:

Regular price

From $68.00 USD

Regular price

Sale price

From $68.00 USD

Unit price

per
What our clients have to say
✭✭✭✭✭

"Absolutely fantastic staff. I've gone there for 4 piercings to two different piercers and they are all so patient, friendly and fun to be around (along with great prices)! LUAR is such a welcoming comforting environment and I know for a fact that I will be returning for any of my piercings in the future! Big thanks to all the staff there they're wonderful people." - Alexis G

PIERCINGS

✭✭✭✭✭

"These guys are some of my favorite people! I love how they know me! A few years ago I stumbled upon this little place and got my lip pierced! They were so friendly, and still are. Their jewelry has such quality... Some hand made with careful detail. I have so many pieces. Sea has helped me decide what piercings are best and where, I trust her. Harleigh is so helpful and fun, always a ready smile. Wouldn't go anywhere else for my piercings or jewelry! Simply the best!"

- Carol D

PIERCINGS & JEWELRY

✭✭✭✭✭

"It was my first time actually being in a piercing place where I felt incredibly comfortable and the vibes weren't super overwhelming. When downsizing the length of my friends labret my friend also mentioned that she had bought a septum piercing in the past from Luar that was a little crooked and needed to be bent back in shape. Usually I would assume the shop would just recommend buying a brand new one but then they offered to reshape it for her. I was super surprised because with my experience in piercings shops I had never heard you could even do that. Highly recommended place to go for any piercings or custom pieces. Incredibly welcoming staff!

- Kahlil D

PIERCINGS & JEWELRY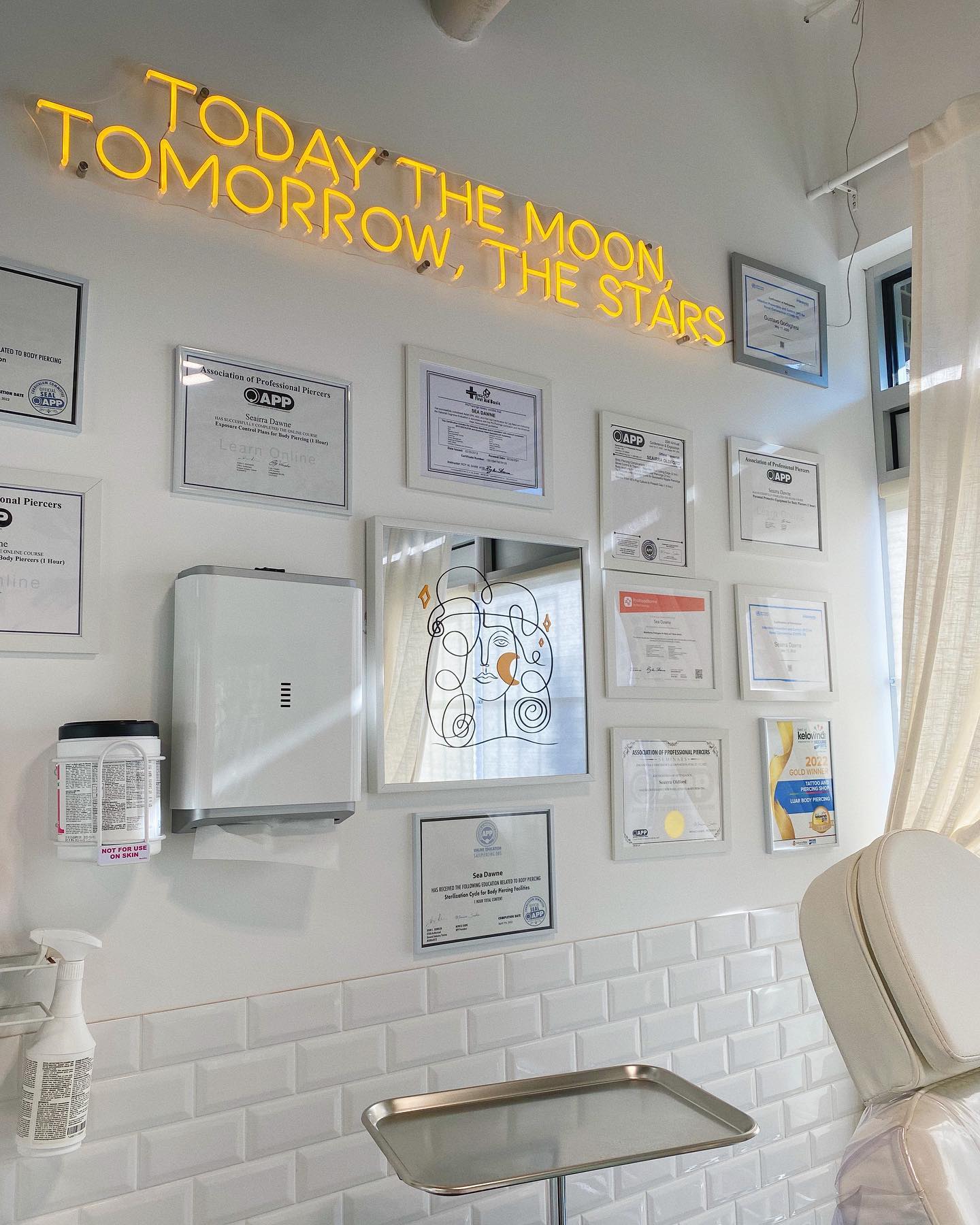 Expertise & Education
Your safety and comfort is a top priority to us here at Luar. We value and uphold high standards within each step when preparing for every procedure. From using internally threaded, mirror polish, implant grade Titanium (Ti-6AL-4V-ELI ASTM F136) body jewelry, to using modern techniques and sterilization practices that go above and beyond health board regulations. Each staff member prioritizes expanding their education annually through the Association of Professional Piercers (APP).
READ MORE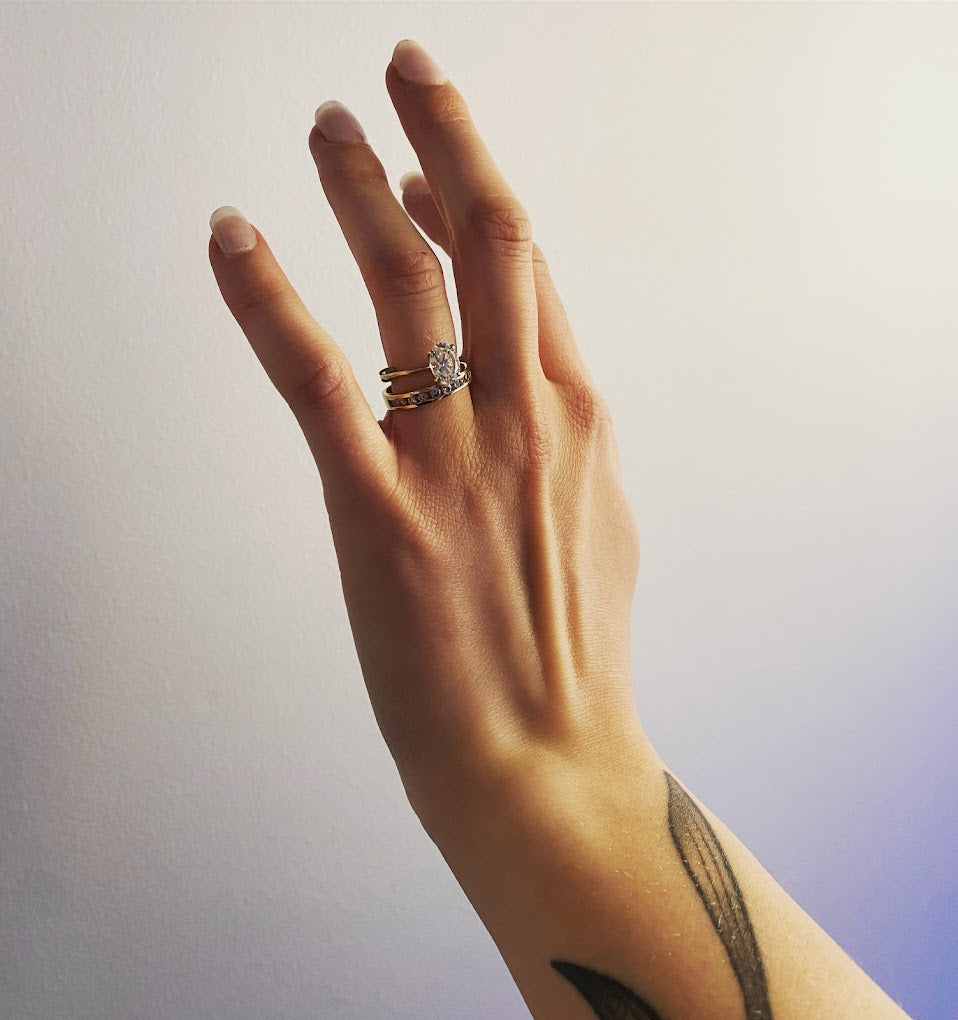 Luar Gold
Luar is the Okanagan's first and only studio that provides and specializes in hand crafted solid gold body jewelry. Located in the heart of Kelowna, BC, is our sister store, Luar Gold. Led by Gustavo Godeghesi, a skilled Goldsmith artisan with a multicultural background and fluency in several languages, ensures comfort and ease of communication. Here we create custom jewelry, including engagement rings, earrings, and unique body adornments. Our hallmark is exceptional craftsmanship and a deep commitment to our clients, resulting in one-of-a-kind pieces that reflect the client's style and personality.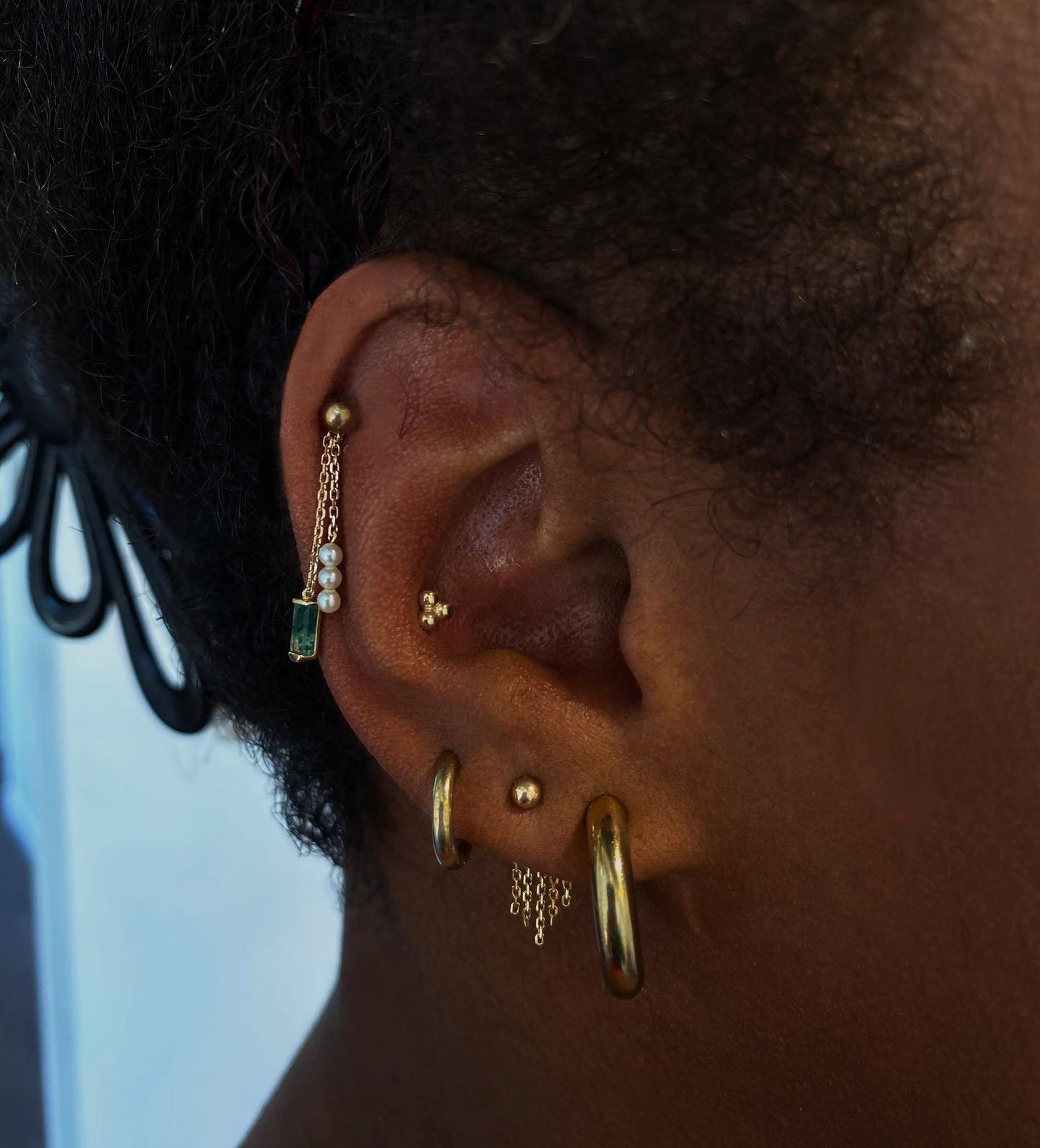 Ear Curation
We are here to make your piercing dreams come true! By working closely with our clients one on one, we are able to curate collections that reflect your personal style and comfortably suit your anatomy. From minimalist to maximalist, and everything in between body piercing and body jewelry is a beautiful source of self expression.
Everyone's anatomy is different, and no two ears are ever the same, making your collection completely unique to you.
To book a "Piercing Curation" appointment, please visit our booking page, or to learn more about this service, visit our FAQ page.